Welcome to Amsterdam, a city with so much to see, taste,
and do, you probably can't claim it all.
Don't worry, we asked our favourite Amsterdammer
Bobbie Jongejans
to guide you through her hometown, so you won't miss out on hidden gems or must-see places.
Discover Amsterdam like we locals do with our 24 hour guide to Amsterdam.
9AM WAKE UP CALL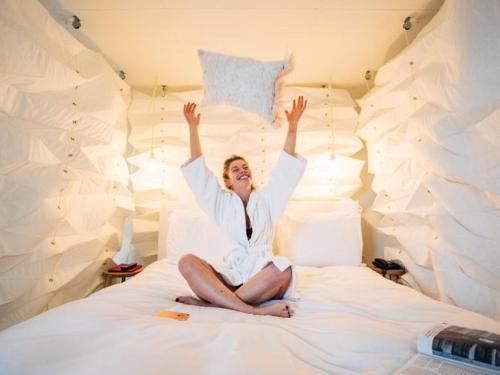 You've just woken up in Amsterdam.
Congratulations, the fun starts now.
Hotel The Exchange is in the heart of city,
everything is a short walk away.
Trust your guide Bobbie Jongejans to lead the way, she knows and loves Amsterdam.
First thing: coffee. Head downstairs to café STOCK.
City Guide Amsterdam // Hotel The Exchange // Damrak 50
10AM MORNING COFFEE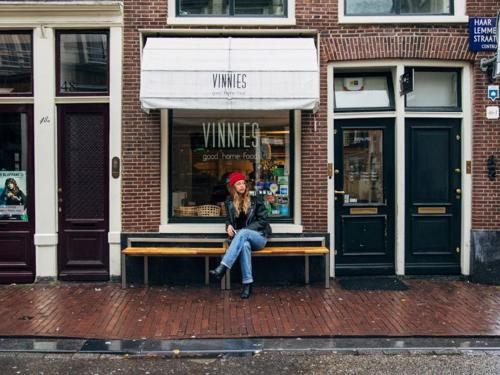 Head to
Vinnies
for a second cup of coffee.
Try not to rush, this is a place for slow starts.
People watching on the Haarlemmerstraat is as good as it gets in the city.
Like that vintage bicycle hanging from the ceiling? Good, it's also for sale!
Vinnies trades in coffee and good design.
Don't miss the restored 1930s desk lamps dotted around the tables.
Danger: the almond brownies (gluten free) are highly addictive.
City Guide Amsterdam // Vinnies // Haarlemmerstraat 46 HS
11AM BRUNCH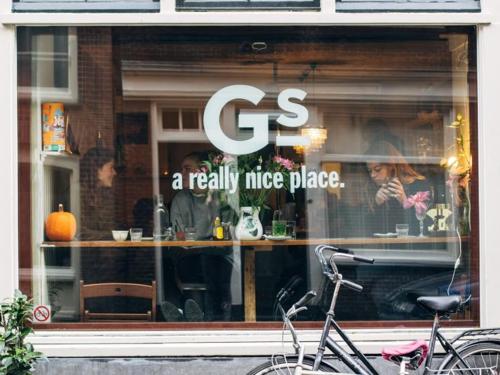 Stroll along the picture-perfect Brouwersgracht towards brunch
where the locals go at
Gs Really Nice Place
. Perhaps you meet a sweet pug along the way.
Prepare yourself for the world's most extended brunch with many (many) bloody marys. Hang around for as long as possible, things will hopefully get messy.
City Guide Amsterdam // Gs Really Nice Place // Goudbloemstraat 91
2PM WALK IT OFF
Meander along the Prinsengracht towards the popular 9 Streets, a shopping paradise in the Jordaan neighbourhood.
This is where credit cards go to be maxxed out.
Be brave.

City Guide Amsterdam // 9 Streets // Reestraat, Hartenstraat, Gasthuismolensteeg, Berenstraat, Wolvenstraat, Oude Spiegelstraat, Runstraat, Huidenstraat, Wijde Heisteeg
2.30PM GO VINTAGE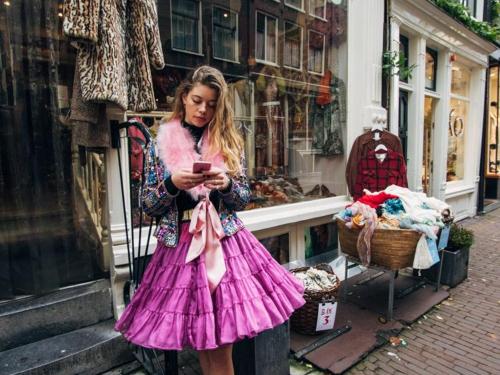 Bargain hunting at Amsterdam's oldest vintage store, Laura Dols, founded in the late 1970s. Don't miss their collection of 1950s hats and mega range of handbags.
Head to the basement for the best treasure: racks of glittery eveningwear.
You'll have to hustle with every sequin-loving tourist in the city to find a bargain. It's totally worth it.

City Guide Amsterdam // Laura Dols // Wolvenstraat 7
3PM FOLLOW YOUR NOSE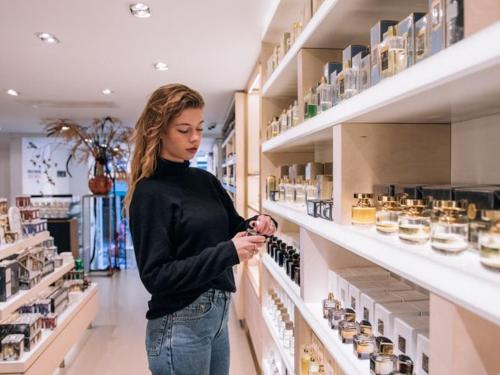 Indulge in the heavenly scent selection at the perfumery and skincare haven Skins.
If you're that person who can never find a fragrance that works, try the Skins Nose experience, where an expert will guide you to the best option based on your scent favourites. We'd do it just for the complimentary tea and cookie, yes please!

City Guide Amsterdam // Skins // Runstraat 11
4PM PHOTOGRAPHY FEAST FOR THE EYES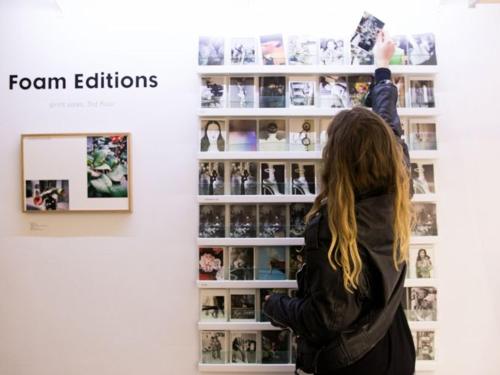 Walk from the 9 Streets to
FOAM
photography museum (14 minutes walk). FOAM is home to some of Amsterdam's most contemporary photographic art with an achingly hip fan base.
The small bookstore at reception stocks hard-to-find imprints.
Best Kept Secret: check out FOAM Editions in the attic, all the way up the steep staircase. Here you'll find prints from emerging and established photographers at accessible prices.
City Guide Amsterdam // FOAM // Keizersgracht 609
6PM CAT NAP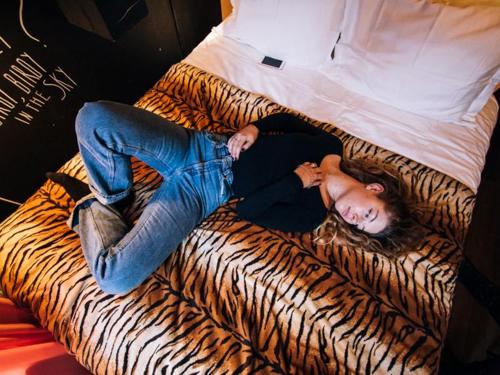 Walk 1 minute to the Vijzelstraat and hop on Tram 16 to
head back to Hotel The Exchange (exit Dam square).
Time for a quick cat nap. You deserve it.
Grab your dancing shoes.

City Guide Amsterdam // Hotel The Exchange // Damrak 50
7PM GO JAPANESE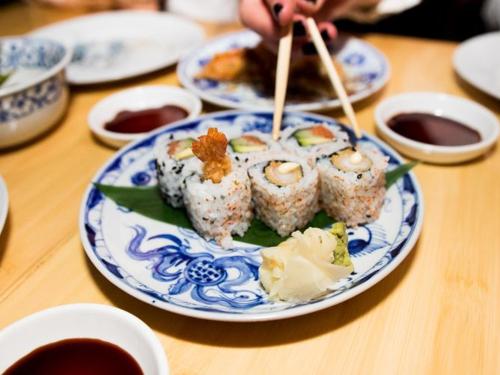 Jump on Tram 4 heading to the popular De Pijp neighbourhood (exit at Stadhouderskade).
Find Bobbie's favourite no-reservations ramen bar: De Japanner.
Highly recommended: sharing small dishes like the beef tataki, sushi rolls and squid fries.
Also, beware of the staff, they are really good at re-filling your empty gin and tonic glass.
Good to Know: the kitchen is open til 2.30am on weekends.
City Guide Amsterdam // De Japanner // Albert Cuypstraat 228
11.30PM CLUB MIX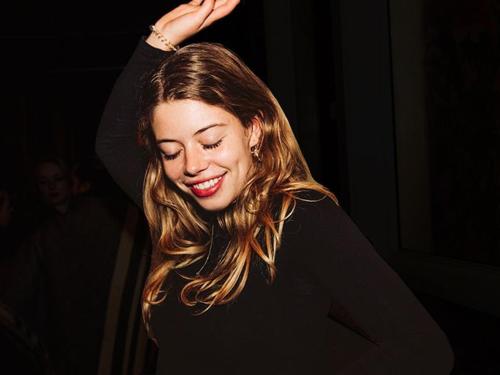 Keep your head up high, it's time to see what lurks in Amsterdam's nightlife.
Dancing freaks. Flying pigs.
Club doors open from 11pm at
Chicago Social Club
and close at 4am.
Don't miss the Super Social nights. Check their website for the latest line-up.
City Guide Amsterdam // Chicago Social Club // Leidseplein 12