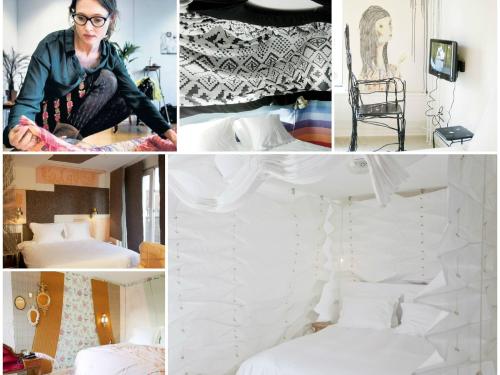 Voor Hotel The Exchange heb ik acht verschillende kamers ontworpen die één ding gemeen hebben. Ze zijn allemaal theatraal, uitgesproken en over de top! In februari 2010 ben ik afgestudeerd aan het AMFI met een Fabric Forecast en een kleding collectie op papier, bij beide disciplines stonden materialen en prints centraal. Ook in de door mij ontworpen kamers hebben de materialen en dessins de hoofdrol.
De kamers zijn allemaal totaal verschillend van aard. Zo heb ik onder andere een donkere, mannelijke kamer ontworpen geïnspireerd op de schilderijen en het leven van de schilder Rembrandt van Rijn; een romantische, vrouwelijke kamer geïnspireerd op het leven van Marie Antoinette, een felle grafische 80ies kamer geïnspireerd op de jaren 80 en de Fabric Forecast die ik voor mijn afstuderen heb gemaakt; en een duistere, droevige maar mooie Room of Misunderstood Creatures.
Deze laatste kamer is gebaseerd op de kledingcollectie die ik voor mijn afstuderen ontworpen heb. In deze kamer huilt het plafond zwarte tranen met diamantjes, die over de muren op de vloer druppelen en komen geïllustreerde wezens tot leven.
HOTEL KAMERS
MATTRESS ROOM
The essence of a hotel room is that it offers you the comfort of a great bed away from home. Designer Roos Soetekouw took the mattress as her inspiration and turned it inside our, dissecting it into it's vulgar parts and from there looking for the sheer beauty and strength of the materials to dress two rooms. Mattress Room Original is wearing a highly functional winter coat put together of the three rather masculine materials found inside a typical box spring mattress: the 3D fabric of iron bedsprings, the non woven recycled textile padding and the foam layers in which a pattern - inspired by the glue stains on the original mattress - has been burned out by laser.
The young designer's desire to literally get inside the mattress also led her to develop a Gobelin or Damast like fabric in which she upholstered another room using a meticulous traditional lathing technique. The precious fabric is custom woven by the Textile Museum Tilburg in two different color schemes using an experimental mix of yarns such as paper yarn, viscose, cotton, mohair and gold Lurex. Mattress Room de Luxe is nobly dressed in the

EIGHTIES ROOM
Dressed to impress in bold and fun eighties retro style this room was outfitted with an oversized black and white patterned sweater and a tight fitting tube skirt in a rainbow of colors. Both the graphic knitwear, in white cotton with some Lurex blend in and a black elastic yarn, and the rainbow weave, have been crafted in the TextileLab of the Textile Museum Tilburg. The eighties styling by the way is not just a fashion fad, Hotel The Exchange in fact houses in three original buildings; one dating back to the seventeenth century, one to the seventies and one to the eighties.
MARIE-ANTOINETTE
This room is dressed in eighteenth century costume drama style, featuring a rich mix of romantic and luxurious fabrics and typical details from that era such as the corset with it's slimming paneling and lacing for the walls and a giant hoop skirt covering the bed. Following the sweet tastes of Marie-Antoinette, the legendary Queen to the Dauphin of France, Louis XVI, and a fashion icon in her own right, the fabrics are all embellished by hand with stitched or stamped flower patterns in a bouquet of pink tones. The room's romantic costume is accessorized with matching pick 'n mix of wallpapers and furniture.
ROOM OF MISUNDERSTOOD CREATURES
Fashion could never flourish without the unbridled fantasy of its creators but these fantasy worlds can also reveal a darker side. Fashion illustration is a perfect medium to express these subconscious wonderlands. The Room of Misunderstood Creatures is a fashion installation including three lovely yet troubled illustrated creatures, a pitch black ceiling that is crying it's dark tears down walls dressed in sheer white, and accessorized with hand drawn strangely proportioned furniture. Colorful shiny sequins everywhere, especially in the white lacquered floor and along the black tears add a magic sparkle to this gloomy setting. The complexity of the Misunderstood Creature is perfectly expressed in the custom designed fabric that dresses the windows and furniture, a triple layer knit with a dark nude skin, a core of black loop yarns and a sheer and shimmering nylon surface.
REMBRANDT ROOM
Innovative fashion designers always build on the shoulders of their predecessors, meticulously reinterpreting the great moments in fashion findings. The Rembrandt room is devoted to an item of clothing that goes back to the way man of stature dressed in the golden age.It has been painted lots of times in all it's colour nuances of cream and white: the millstone collar. Here, the pleated collar is detailed with sown-in parallelogram creatures. All of this leads to a three dimensional origami-like folding creation.