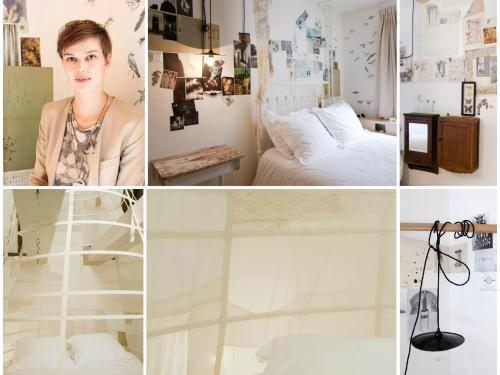 My room is based on a fairytale of the brothers Grimm. It became the source of inspiration for my hotel room. I brought back the story to its basic values and then I started to collect associated images. Thus I was able to tell a story, to draw, to write, to design between the walls of a small hotel room.

I wanted to refurbish the hotel room with fictional traces, memories and images of something which never happened, and combine this with the tactile experience of the genuine walls, floor seams and all the other remains of 30 years of being a hotel room. To me this seemed an intimate process and therefore I chose to work in a tiny room so the guest is very close to the work and even a part of it.

My working method is process based. I started out by making collages and drawings on the walls. Slowly the story evolved, and with that the room decoration. The furniture I gathered from small markets. I mended what was broken, and sought for the missing pieces or built them myself. This is how it has become a site-specific hotel room design.

It became a multi-layered room full of stories.: The fairytale that is being told, my interpretation of it, personal traces, the people which visited this room and the people which will stay there. Each of them has his own story. To all these stories the hotel room is a silent onlooker. Imaginary and real memories piled up visibly and invisibly. To these, new ones will be added.
HOTEL ROOMS
I STILL REMEMBER
The Grimm Brother's fairy tale 'Jorinde and Joringel' inspired this sweet little attic room, which may look old but is in fact all the way redone. The designer - forced to let go of the old room - appliquéd and molded a 3D collage of feminine, free flowing associations on the theme, which includes lots of birds escaping from cages and other nostalgic paraphernalia. It is the kind of lovingly executed reminiscence that will never go out of style. What's more, I Still remember makes a perfect pas de deux with Sofie Sleumer's other room The Crinoline Cage, which you can just peek into if you look outside the small attic window.
CRINOLINE
Getting under someone's skirt probably never felt as delightful as in Sophie Sleumer's The Crinoline Cage. The way she fit this nineteenth century skirt shaped support structure into the tiny seventeenth century attic room, pierced by massive wooden ridge beams, and still make it look like the delicate and tirelessly hand sewn fashion miracle to fit a virgin wasp waist, is just delish! What's even more delish is that you get to pull up this giant fireproofed skirt tent, patched together using vintage scraps of lace and fancy linen, when diving into the comfort zone of your hotel bed. When you go look for the bathroom you will have to maneuver the crinoline to the side a little, a taste of fashion history that works magically together with the 'petitness' of the room wearing it.
www.sofiesleumer.nl