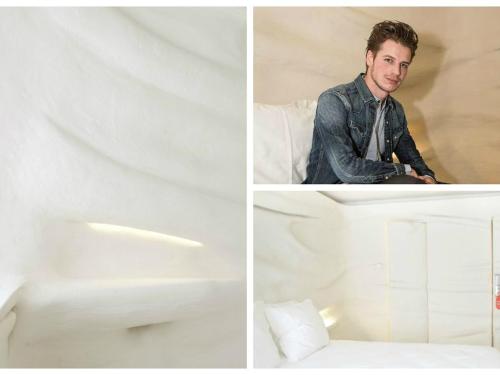 An approach of fabric in its purest has been the point of departure for the design of my room. Day in and day out we are creating a spectacle of pleats which move on the rhythm of the human body. No one seems to realize that these pleats are a translation of our physical activities in every day life. I see these pleats as a way of communicating. Especially because of its banal expression it's a big source of inspiration to me.

By sharing my fascination I provided my room with folded walls which flow into each other. The walls are literally inspired by a basic white t-shirt. Because of the fact that the pleats are designed as a sculpture of hard material, a contrast between natural movements comes into existence. This enables the pleats in the room to have functions that you will also encounter in ordinary rooms. Guests are obliged to pay attention to this ordinary form of beauty.
HOTEL ROOM
THE PLEATS ROOM
The 'body' in this unisex, dressed down room feels almost disagreeably human. Inspired by the pleats and folds in a simple white T-shirt when worn, the walls of this room are fixed in a surreal composition of giant size pleats. Eco cotton colored stucco folds that ever so casually create a window seat and nightstands hiding simple necessities of life like wall plugs. The 'body' inside these walls is that of a real good friend, close, clean, familiar, and definitely not smothering you with a dominating hug.