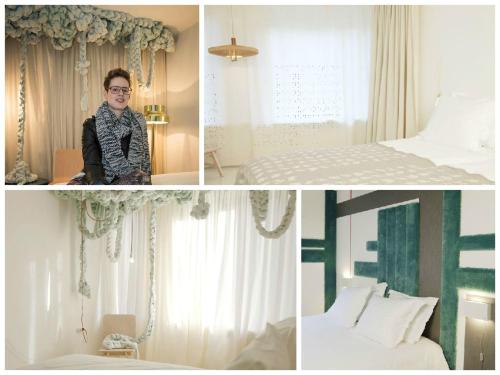 Hotel The Exchange has given me the opportunity to graduate in a very unique way. During my studies I enrolled for the course forecasting, which is focused on discovering new trends and developing new materials. Fashion needs innovators to inspire its trends on. Interior design is a branch which is more developed than the fashion world is. I am passionate about ecology and corporate social responsibility. As Interior Design is more pronounced in this respect too, it is my main source of inspiration.

Creating fashion which is new, finding out what's still missing. The fashion world deals with oversaturation . There are too many identical products. What people really need is looked into too little.

The most special project is the room/products 'Faded Bounds'. The most important question to start was: which group of people really need my help as a designer? Blind and partially sighted people grabbed my attention. As a child I was frequently in contact with Bartimeus, a centre for blind and partially sighted people. This gave me the inspiration to tell a story in each of my designs, which is communicated in a couple of seconds through sight and sensing. A sterile space where ones senses communicate the feeling and tell the story.
HOTEL ROOMS
WOVEN COCOON
Much like the "deconstructionists" such as Martin Margiela did in the nineties designer Malu Gehner dressed this room "inside out", with the difference that she made an abstraction of this once revolutionary fashion concept. First of all because you are in fact inside the room when you look at the way it is "outfitted", but also because she designed an architectural composition of square shapes in matt, hairy and smooth materials - an effect she repeated in the matching custom woven curtains using mohair, cotton and plain wool. The color palette for Spring-Summer 2012 is cool in a two tone - warm an cold - mint, light stone grey and a shocking pink accent.

EPAULETTES
The ornamental shoulder decorations traditionally used as ranking insignia in military attire have been cited in fashion and couture contexts in countless ways, but to distinguish a room with such symbolic decorum is more than impressive. The monumental, supersized abundance of hand braided pale blue trimmings hanging from the ceiling in front of the windows and bathroom, as if a giant lady has laid herself to rest in this room, is mockingly mirrored in a matching kimono decorating the bed head wall.

BRAILLE
There's something innately sexy about the idea that the blind have to rely on their sense of touch to read the enlarged laser burned or embroidered Braille on Malu Gehner's curtains and carpets. The mystery of the message in this room however will not reveal itself that easily and it will take all possible senses to be guided through this room. Just follow your fashion intuition and you are sure to rise and shine from your beauty sleep enlightened by a little history.