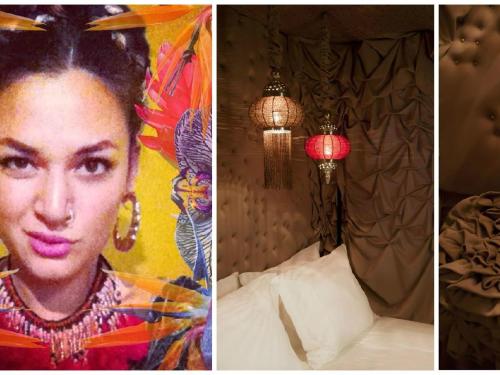 This room is inspired by an apron skirt which I designed during the semester 'Identity' at AMFI. It's my favourite garment. The room shows who I am and reflects what I love in life. It is a cheerful, layered and most of all ethnic. It may stand out and show enjoyment.

I got inspired by India and other countries which are colourful, have a rich culture, traditional crafts and clothing. I love handwork and I really try to engage this method in each of my projects. I worked with frills and I added bells, shells, coins and balls. Less is more but MORE is even better! This room is dancing and has a lot of colours and folkloristic, Indian influences. The room I designed has anklets, bells, beads, and lamps will be worn as earrings. I love the jingle of the bells which my ankles make when I am walking. This gives an elegant, lovely feeling and with a smile on my face I suddenly feel like dancing. The more I show myself, the more there is to love. In brief: colourful, happy and chaotic in a certain order.
HOTEL ROOMS
JUANITA
If it weren't for globe-trotting fashion geniuses like Yves Saint Laurent we probably wouldn't feel as comfortable mixing an abundance of ethnic and folklore styles in womenswear. Take Juanita for instance. Her ankle long gipsy ruffled skirt in a custom woven fabric fading from a sunny yellow into deep purple, reveals a shiny white lace underskirt there where she teasingly pulls up. This India meets Mexico look is accessorized with star shaped lamp in multi colored glass and Inca style patterned wickerwork stools.

MESTIZA
This Frida Kahlo inspired room is dressed in an abundant evening gown with a stunning mix of traditional handcrafted techniques such as the pick up skirt technique used to mold the liver colored jersey crepe along the walls. Another wall is dressed in a voluptuous caption design featuring a typical Dutch folklore pattern from Staphorst. All the fabric is gathered in meticulously stitched seams along the sealing which is embellished with sparkly melted sequins. Mestiza wears a lot of oriental silver jewelry with colorful glass beads.