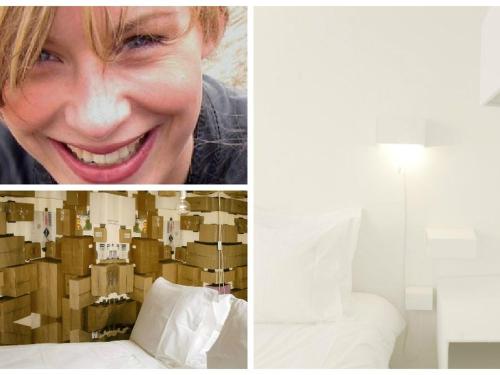 Fashion is language to me. It influences the way we look at each other and how we judge each other. It is a method of how we express ourselves; fashion is our identity. The human body is constructed by playing with mass and proportions. The aim is to show the good and to conceal the bad.

Throughout my personal view on clothing, a fascination for detail and the science of mass I wanted to create a space which tantalizes the mind and asks people to look further than their brain and eyes would initially do. From these thoughts the rooms 'Hide and Seek' and 'Romantic Illusion' were designed.
HOTEL ROOMS
HIDE AND SEEK
Sometimes the simple purpose of clothes is to hide any sign of ego or personal expression, like a sheer functional white doctor's coat. This room is dressed entirely in plain and simple, form following second skin made off layers of white cheese cloth hide disturbing little details like power sockets from sight while the minimal silver designer jewelry adds just that subtle fashionable touch this non fashion statement.
LIVING IN A CARDBOARD BOX
The high concept approach to dressing this room resonates with the fresh, subjective and multifunctional vision and aesthetics of BLESS, a Berlin and Paris based fashion and design duo. Designer Denise de Geijter first dressed the entire room with assorted boxes found around the hotel. She then had this sculptural no-nonsense outfit photographed and printed real size on some thirty meters of interior fabric. Stripped bare again from the cardboard boxes, the same room is now hung with curtains and covered with panels in this fabric. A straight up statement outfit that catches the very essence of fashion in a playful, no nonsense way.